Yosemite National Park is on a lot of people's bucket lists and with around 4 million visitors every year, it sure is a busy national park. We visited in mid-March during our three-month road trip across the USA and I was amazed by the beauty of it. It's no wonder it's such a popular place to visit. If you're planning on visiting Yosemite National Park then be sure to check out this guide below for your trip to Yosemite. It includes the low-down on places to stay at Yosemite, the best things to do in Yosemite National Park and some of the best hikes in Yosemite, California too!
About Yosemite National Park
Yosemite National Park is full of waterfalls, world-famous cliffs (think Half Dome and El Capitan), meadows and ancient giant sequoias. It's an American icon and is a popular destination on many peoples' California travel itineraries. It's easily accessible from big cities such as San Francisco and so if you want to escape from city noise you can find a spot of quiet in the Yosemite Valley.
Where is Yosemite National Park located?
Yosemite National Park is in the state of California. It's towards the east of the state and not too far from the border with Nevada. It's about 3.5 hours away from San Francisco, and just under 5 hours drive north of Los Angeles.
Yosemite National Park map
This map of Yosemite National Park (click to enlarge) shows the entire boundaries of the park which will help you with the basics of planning a Yosemite trip.
You can see another Yosemite map here for the Yosemite Valley area which you'll undoubtedly be visiting.
How to get to Yosemite National Park
Yosemite National Park is a popular stop off on a California road trip and it's a great place to add to your itinerary if you're visiting Los Angeles or San Francisco.
If you are visiting California on vacation and need to rent a car, I highly recommend checking out RentalCars.com who make it super easy to compare prices so you get the best deal.
Nearest international airp0rts to Yosemite
The closest international airports to Yosemite National Park are
Fresno-Yosemite International (FAT) 64.8 miles
Merced Airport (MCE) 71.4 miles
Oakland International (OAK) 150.3 miles
San Francisco International (SFO) 169.2 miles
San José International (SJC) 187.5 miles
If you have dates in mind then I recommend checking out Skyscanner.com to compare your cheap flights! Or, if you've yet to choose your dates then take a look at Dollar Flight Club, once signed up you can set your home airport(s) and then they'll let you know when they find amazing deals on flights. The savings they find every day AMAZE me!
Driving to Yosemite NP from San Francisco
Getting to Yosemite National Park from San Francisco takes around 3-4 hours and the distance between San Francisco and Yosemite is about 167 miles / 269km.
To get between the two you'll most likely go via the I-580 eastbound and CA-120 east.
Bear in mind traffic in the San Francisco area is pretty bad so try and leave early to avoid the worst of it!
If you need to rent a car, check out RentalCars.com who make it super easy to compare prices so you get the best deal.
Permits, passes and entrance fees to Yosemite National Park
On your Yosemite trip, you'll have to pay entrance fees to the park and perhaps further fees depending on what your plans are.
Entrance fees for Yosemite National Park
The Yosemite National Park entrance fee costs $35. This gives unlimited entry for 1 vehicle over the course of seven consecutive days. If you're visiting by bike or on foot then a pass costs $20.
If you're planning on visiting a few US National Parks over the course of a year then consider buying the "America is Beautiful" National Parks Pass.
You can also get an annual pass for Yosemite National Park which costs $55 and is great if you think you'll be visiting the park more than twice in one year.
Yosemite camping fees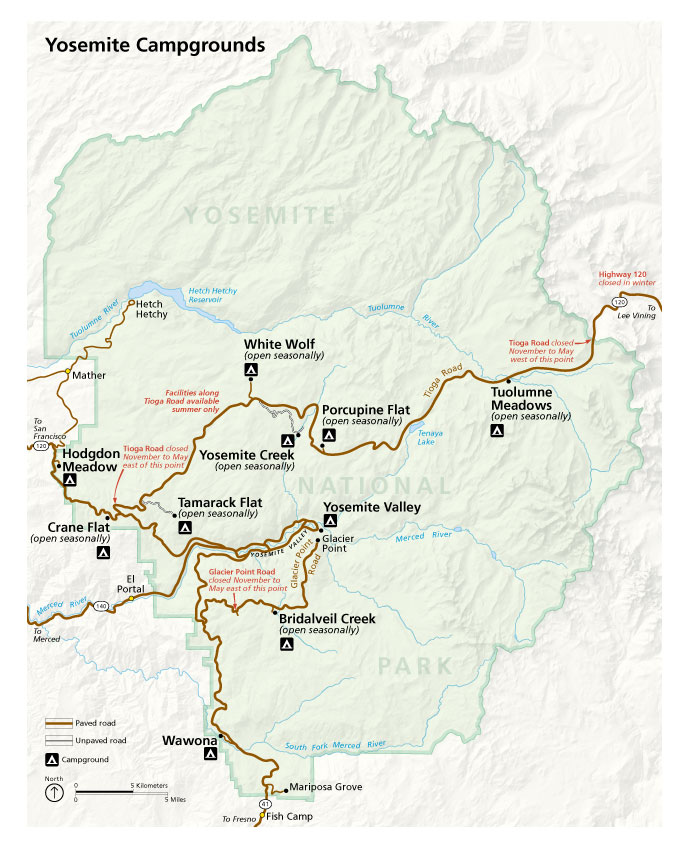 Here's a map of the campsites at Yosemite National Park. This doesn't show each individual Yosemite campground, more the areas in which they are in.
Yosemite National Park camping gets super busy and booked up. It's best to reserve in advance to guarantee a spot.
Campsites cost between $6 – $26. The cheapest camping in Yosemite is at Camp 4 in Yosemite Valley and is charged per person, per night. No RVs/trailers are allowed in this campsite.
If you're interested in camping in Yosemite National Park you can find more information on the campsites in Yosemite National Park, check the official Yosemite website.
Wilderness permits for Yosemite
If you plan on backpacking or making any other type of overnight stay in the Yosemite Wilderness you'll need to get a wilderness permit.
You do not need a wilderness permit for day hikes with the exception of Half Dome (see below).
Each trailhead has limited wilderness permits which protects the trails and stop them from getting too busy. It's recommended you make a reservation so as not to be disappointed if you can't hike the trail you hoped to.
Making Yosemite reservations for wilderness camping costs $5 per confirmed reservation and $5 per person. 60% can be reserved ahead of time and the other 40% are offered as first come, first served and are available from 11 am the day before your hike as long as permits are available.
See this page for getting a wilderness permit.
Permits for Half Dome
There are different permits depending on whether you're day hiking Half Dome or backpacking Half Dome.
A maximum of 300 hikers is allowed each day (about 225-day hikers and 75 backpackers).
All the information you need can be found with regards to these types of reservations for Yosemite can be found here – with the key points picked out below.
Permits for day hiking Half Dome
Permits to hike to the top of Half Dome are required every day of the week once the cables (used for helping you climb the rock) are up. The cables are normally up from the Friday of Memorial Day weekend in May and come down the day Columbus Day in October. However, this isn't always the case, check the status here).
A permit costs $20. $10 when you place your reservation and another $10 when you collect it.
Permits for backpacking Half Dome
If you're planning on breaking the hike up over two (or more) days then you'll need to get a wilderness permit too. You should apply for the permit to hike Half Dome at the same time as applying for your wilderness permit (see above).
Top 5 things to do in Yosemite National Park
Want to know what to add to your Yosemite National Park itinerary? Here are a few ideas to get you started when it comes to what to do in Yosemite!
Hike Half Dome
Explore the valley and meadows
Watch the climbers on El Capitan (or join them!)
Hike to the top of Yosemite Falls – these Yosemite waterfalls are huge and so impressive!
Take in the views from Glacier Point
See more things to do in Yosemite National Park here
Top 5 Yosemite hikes
Love hiking? Be sure to look into doing at least one of these best hikes in Yosemite National Park. These Yosemite hiking trails are all spectacular.
Before you go, be sure to get a Yosemite National Park trail map.
Half Dome
The Mist Trail to Vernal Fall and Nevada Falls
Glacier Point (either the 4 miler or shorter walk)
Sentinel Dome hike
Yosemite Tours and day trips from San Francisco
If you're travelling solo and want to join a tour, or are just looking to make getting to and around Yosemite super easy, then check out these tours of Yosemite National Park.
What's nearby?
There's so much to do in and around Yosemite National Park. Here are a few of the places we visited near Yosemite National Park.
Where to stay in Yosemite National Park
Being such a popular place, there's quite a lot of choice when it comes to the question of where to stay at Yosemite National Park including some great accommodation in Yosemite National Park itself. Below are some of the best places to stay in Yosemite National Park.
Best hotels in Yosemite National Park
Yosemite hotels and lodging in Yosemite National park include everything from simple tents to deluxe rooms at The Majestic Yosemite Hotel. You'll definitely need to book accommodation at Yosemite in advance, especially if you plan on staying in Yosemite . I've picked out some of the most renowned options for Yosemite hotels in the park here.
Hotels near Yosemite National Park
If you're looking for places to stay near Yosemite National Park then see the highly recommended ones below. They all get above 8 out 10 on booking.com
Whilst expensive, there are also some Yosemite rental cabins and lodges available on Airbnb. If you're travelling in a group and splitting the cost (or are more of a luxury traveller) then these may be a great option for you.
Campground and RV Parks near Yosemite National Parks
High Sierra RV Park & Resort: Situated in Oakhurst near the National Park with its own swimming pool and waterfalls! High Sierra RV Park also has cabins available.
Yosemite Pines RV: Has large pull-through sites for those big RVs and tent spots with everything in between! Is 22 miles from the park and also has yurts and Yosemite cabins too.
Other things to know before travelling to Yosemite National Park
Millions of people visit Yosemite from April – October and the park gets very busy. Add to that ongoing construction and you'll get congestion. Be patient!
From spring to autumn aim to arrive in the park before or after 9 am and 5 pm to enjoy some quiet
Plan ahead: make reservations for hotels, camping and backpacking
Keep wildlife wild: do not approach or feed animals.
Protect Yosemite's bears: always practice proper food storage and follow speed limits.
Phone service is very limited and there's little to no data connection even in Yosemite village
More USA National Parks posts