After breaking down in Yosemite National Park and effectively losing a day of exploring to logistics, we spent the following few days exploring as much as we could of the park. There were still parts of the park we couldn't get to as they were closed off by snow (in mid-March!). In fact, the only part of Yosemite National Park we could see was The Yosemite Valley. Nevertheless, we saw a lot and had a great time exploring Yosemite. Here are some of the best things to do in Yosemite National Park (including a few we didn't get to do this time around because of the weather!) if you plan to visit Yosemite.
Where is Yosemite National Park located?
Yosemite National Park is in the state of California. It's towards the east of the state and not too far from the border with Nevada. It's about 3.5 hours away from San Francisco, and just under 5 hours drive north of Los Angeles.
Yosemite National Park map
This map of Yosemite National Park (click to enlarge Yosemite park map) shows the entire boundaries of the park which will help you with the basics of planning a Yosemite trip.
You can see another Yosemite map here for the Yosemite Valley area which you'll undoubtedly be visiting.
Entrance fees for Yosemite National Park
The Yosemite admission fee is $35. This gives unlimited entry for 1 vehicle over the course of seven consecutive days. If you're visiting by bike or on foot then a pass costs $20.
If you're planning on visiting a few US National Parks over the course of a year then consider buying the "America is Beautiful National Parks Pass.
You can also get an annual pass for Yosemite National Park which costs $55 and is great if you think you'll be visiting the park more than twice in one year.
For more information on Yosemite passes and fees see this guide to visiting Yosemite National Park
Where to stay in Yosemite National Park
Being such a popular place, there's quite a lot of choice when it comes to the question of where to stay at Yosemite National Park including some great accommodation in Yosemite National Park itself and in the towns near Yosemite. Below are some of the best places to stay in Yosemite National Park.
Best hotels in Yosemite National Park
Yosemite hotels and lodging in Yosemite National park include everything from simple tents to deluxe rooms at The Majestic Yosemite Hotel. You'll definitely need to book accommodation at Yosemite in advance, especially if you plan on staying in Yosemite . I've picked out some of the most renowned options for Yosemite hotels in the park here.
Hotels near Yosemite National Park
If you're looking for places to stay near Yosemite National Park then see the highly recommended ones below. They all get above 8 out 10 on booking.com
Whilst expensive, there are also some Yosemite rental cabins and lodges available on Airbnb. If you're travelling in a group and splitting the cost (or are more of a luxury traveller) then these may be a great option for you.
Yosemite camping fees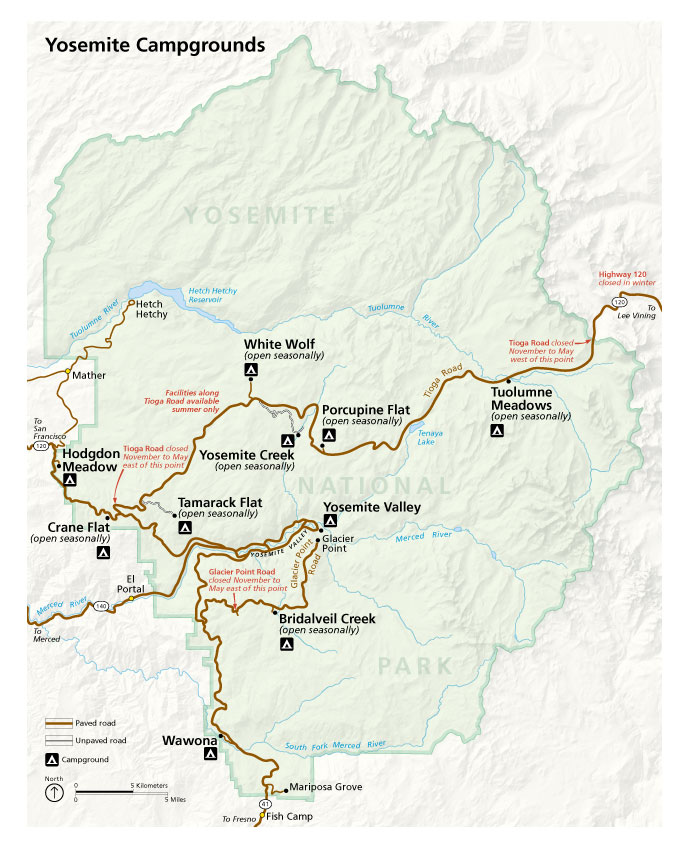 Here's a map of the campsites at Yosemite National Park, California. This doesn't show each individual Yosemite campground, more the areas in which they are in.
Yosemite National Park camping gets super busy and booked up. It's best to reserve in advance to guarantee a spot.
Campsites cost between $6 – $26. The cheapest camping in Yosemite is at Camp 4 in Yosemite Valley and is charged per person, per night. No RVs/trailers are allowed in this campsite.
If you're interested in camping in Yosemite National Park you can find more information on the campsites in Yosemite National Park, check the official Yosemite website.
Campground and RV Parks near Yosemite National Parks
What to do in Yosemite National Park
Add these awesome Yosemite sights to your Yosemite vacation itinerary! With 2 days in Yosemite, you can tick off most of the Yosemite attractions on this list. If you want to do a few more of the hikes you'll probably need 3 days in Yosemite or more.
Wander Yosemite Village
It might not be a natural beauty, but wandering Yosemite Village is still interesting. Yosemite National Park is actually a place people call home all year round. There are shops, garages a library (Top tip: free internet here!), pubs, museums and more. It's worth taking a stroll after a long hike or during your morning coffee run so add it to your "what to see in Yosemite" list.
Grab a post-hike beer
Looking for activities in Yosemite? I think a post-hike beer definitely counts!
After hiking Yosemite Falls and grabbing a shower at the campground in Curry Village, we grabbed a local beer and some crisps from the shop there (tip: cheaper to get a single from the shop than the bar or restaurant!) and sat on the deck with other hikers.
Head back into the park at night and watch the rock climbers on El Capitan
One of my favourite Yosemite things to do was to watch the rock climbers on El Capitan. Despite the fact that I kept falling asleep while we headed back to the park, the moment that I was awake was pretty special and one of our Yosemite highlights. The park is much emptier at night (as you'd expect) but that means you can find places to park up near some of the best sites, such as El Capitan.
The full moon lit up the valley floor and gave Yosemite National Park a whole new light. We gazed up at El Capitan and watched the lights from the climbers move about on the rock face as the climbers chatted and tried to get some sleep (God knows how!).
See the valley from Glacier Point
This was an area of Yosemite National Park that was closed off due to there still being too much snow. However, if you visit when it's open then you'll be treated to some incredible views making it one of the best spots in Yosemite. It should be at the top of your what to see in Yosemite National Park list!
Hike Taft Point & Sentinel Dome
This moderate hike of Taft Point and Sentinel Dome is found along the Glacier Point Road which runs above the Yosemite Valley. It takes about two hours so is great as a morning or afternoon hike.
Take in Tunnel View
Wondering where to go in Yosemite for that photo you've seen everywhere? One of the top attractions in Yosemite (if you can call a view an attraction…) is Tunnel View. Tunnel View offers one of the most famous views of Yosemite Valley and from here you can see El Capitan and Bridalveil Fall. There's also Half Dome peaking out in the background. If the snow hasn't blocked the road for you, like it did us, then make sure you head here!
Get wet by Bridalveil Fall
Bridalveil Falls was the first part of the park we saw. As I mentioned above all the waterfalls were in full flow and Bridalveil was in such full flow that it had actually flooded most of the car park!
Climb (or just watch the mad ones) El Capitan
If you're a seasoned hiker and fancy taking on El Capitan then go for it. However, I will most certainly not be joining you.
Hike through Yosemite's Tuolumne Meadows
Another great thing to do in Yosemite National Park is to hike through Tuolumne Meadows. Yes, this was also closed to us in mid-March but there's plenty of hiking to do here when it is open with some beautiful views.
Hike Half Dome
Whilst I would love to take on the challenge of scaling Half Dome it's a pretty hard feat to accomplish. Not only is the hike hard, but getting a permit to do the hike in the first place can be tricky. On top of that, the trail was closed while we were in Yosemite, so no Half Dome for us!
Vernal and Nevada Falls
The Mist Trail is one of the best-known trails in Yosemite National Park. Many people hike it to gaze at this Vernal Fall and then add a few more miles over to Nevada Fall. Nevada Fall is the closest waterfall to the Sierra Nevada mountain range and this 7-mile return hike gives you great views of the Muir Trail too.
Olmsted Point
Located about an hour from the valley floor, stop here to get a less common view of Half Dome and Yosemite Valley. You'll even be able to see the people climbing the cables of Half Dome which is another great thing to see in Yosemite.
Explore the valley from Yosemite Village to Half Dome/Curry Village
The valley area of Yosemite is such a chilled out place to visit in Yosemite. I'd definitely recommend walking through the valley between these different villages. It's all flat and there are some gorgeous houses, meadows, forest and streams to cross over. Plus, you'll get a great view of Half Dome and the mesa top. If you're looking for an easy hike then this is probably the best hike in Yosemite for that.
Tenaya Lake
Whilst there are many Yosemite lakes, a lot of people say that this is the most beautiful lake in the park and is one of the top places to see in Yosemite. It's tucked between granite peaks and domes and you can kayak, swim, or even ice skate (in the winter) on Tenaya Lake.
Mariposa Grove
Another of the top things to do in Yosemite is to visit the big trees in Yosemite National Park at Mariposa Grove. If you're not heading to Sequoia National Park or to the Redwoods then this is a great place to see some giant trees.
Hike to the top of Yosemite Falls
The hike to the top of Yosemite Falls is one of the best hikes in Yosemite and was our best day hike in Yosemite too. If you've only got a day in Yosemite and want to hike but don't have permits for Half Dome, I'd strongly recommend this hike.
On our first full day in Yosemite National Park, we climbed to the top of Yosemite Falls. The hike to the top of Yosemite Falls is a 7.2-mile round hike which is pretty steep in places as it rises 739m above the valley floor.
Once at the top the view of the valley floor and the other recognisable landmarks around the park is incredible. Take a little walk down towards the cliff face and you'll find a few spots that allow you to get super close to the waterfall as it crashes over the cliff face and down below.
This was made all the better by the fact that the waterfalls throughout the park were in full flow. All that snow which had lead to us having to making a long detour was just starting to melt and the result was super powerful waterfalls!
Cooks Meadow
The famous artist, Ansel Adams, took some of his most famous photos here. From Cooks Meadow, you'll be able to see Cathedral Rocks, Three Brothers, and Half Dome. Making this meadow and awesome thing to see in Yosemite.
Things to do near Yosemite National Park
There are lots of things to do around Yosemite National Park. Here are a few of the places we visited near Yosemite National Park.
Prefer to travel in a group? Check out these Yosemite tours
If you're travelling solo and want to join a tour, or are just looking to make getting to and around Yosemite super easy, then check out these tours of Yosemite National Park.
Other posts on US National Parks